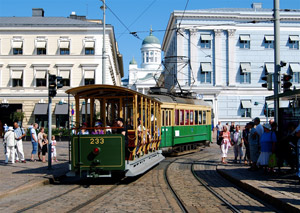 Ride a vintage tram!
Stadin Ratikat Ltd organizes scheduled vintage tram traffic in the city centre of Helsinki! The trams leave from the terminus of line 1 at the Market Square next to the Havis Amanda statue. The map below shows the route.
In 2013, vintage tram traffic will be operated every Saturday and Sunday from mid-May to the beginning of September:
the first weekend of the season is 18th–19th May, 2013
the vintage tram operates also on Helsinki Day, Wed 12th June, 2013
there is no traffic on the Midsummer weekend 22nd–23rd June, 2013
the last weekend of the season is 31th August–1st September, 2013.
The first tram leaves at 10.00 am and the last one at 5.00 pm. There is traffic every 20–30 minutes. During bad weather the traffic may be cancelled.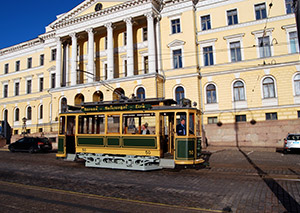 Tickets cost 5 euro for adults and children. Children aged 0–2 may travel for free sitting on a parent's lap.
The motor car from 1909 is manufactured by ASEA, Sweden and the open trailer from 1919 by Hietalahti Shipyards, Finland. The motor car was used in daily traffic until 1956, the open trailer until the summer of 1952 when the Olympic Games took place in Helsinki.