The Renovation of Tram 339
During the years 1954–1959 the Helsinki City Transport authorities (HCT) acquired 105 new large and modern double-bogie cars which could accommodate up to 98 passengers whereas the cars of the previous generation had seats for less than 20 passengers. The novelties included a closed cabin for the driver, who didn't have to sit among the passengers anymore. Tickets were sold and inspected and the doors operated by a conductor sitting in the rear. The conductor was also responsible for order in the tram.
The Finnish-built VTS-car 339 is manufactured by Valmet, Tampella and Strömberg. It was used in regular traffic from 1955 to spring 1987, when the last conductors were substituted by one-man operation on all tram routes.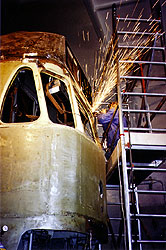 The idea of restoring the tram came up in 1999, and a detailed restoration plan was made. The body was skilfully restored by Tallinna Trammipark in Estonia. The bogies and pantograph were serviced by the HCT Vallila Depot, where the finishing touches of the restoration were also carried out. The maiden tour finally took place on the 1st of July 2004. Eye-catching details inside the tram include shining chrome parts, red seat cushions made of imitation leather and olive green poles, the plastic coating of which was specially made for this tram.